WHAT IS ADVENTURE RUNNING?
Have you by any chance been watching a certain a Worlds Toughest Race on Amazon Prime and want to try out for yourself?
​
You've come to the right place!
​
​Weekend Races
Peak-2-Peak Adventure Run: Oct 18
Raid the Hammer Adventure Run: Nov 8
Icebreaker Adventure Run: Nov 29
​
We are looking into adding an 'Intro' Adventure Race category to these three races. Announcement coming early September.
​
https://www.dontgetlost.org/weekend-races
​
X-League
A short, 40-60 minute course that can be run whenever you want! These are set in urban areas and feature a combination of road running and city trails. They are very straightforward and a great introduction for those who have never run with a map. Even people who claim 'they can't read a map' have had success.
​
Presently we have courses in Hamilton, KW, Barrie, Guelph, Oakville, Niagara and London.
​
Further afield? Get in touch and we can look into setting a course in your local area.
​
Navigation Clinics
We are offering a group clinic on October 10. Visit the clinics page for more details
​
https://www.dontgetlost.org/clinics
​
What are the Raids?
---
Info Coming Soon
---
What is Adventure Running Kids?
---
To come
---
What is the X-League?
---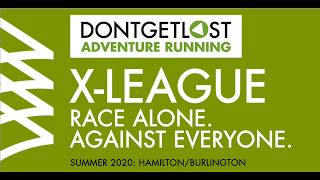 ---
Your maps are different from others I've seen. What does everything on them mean?
---
Most of our maps use the International Orienteering standard (ISOM 2017). Download your own copy here: https://www.maprunner.co.uk/resources/Maprunner-map-symbols-2017.pdf
---
---