WHAT IS ADVENTURE RUNNING?
Have you by any chance been watching a certain a Worlds Toughest Race on Amazon Prime and want to try out for yourself?
​
You've come to the right place!
​
​Weekend Races
Raid the Hammer Adventure Run: Nov 8
Icebreaker Adventure Run: Nov 29
​
https://www.dontgetlost.org/weekend-races
​
X-League
A short, 40-60 minute course that can be run whenever you want! These are set in urban areas and feature a combination of road running and city trails. They are very straightforward and a great introduction for those who have never run with a map. Even people who claim 'they can't read a map' have had success.
​
Presently we have courses in Hamilton and Barrie.
​
Further afield? Get in touch and we can look into setting a course in your local area.
​
Navigation Clinics
All our available dates for navigation clinics are now full for 2020. We have no more capacity, they have been extremely popular.
We will announce Spring 2021 dates in late March.
​
https://www.dontgetlost.org/clinics
​
What are the Raids?
---
Info Coming Soon
---
What is Adventure Running Kids?
---
To come
---
What is the X-League?
---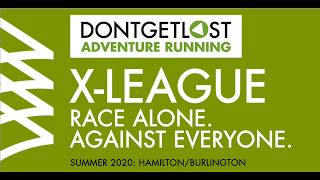 ---
Your maps are different from others I've seen. What does everything on them mean?
---
Most of our maps use the International Orienteering standard (ISOM 2017). Download your own copy here: https://www.maprunner.co.uk/resources/Maprunner-map-symbols-2017.pdf
---
---